3 Round Stones is pleased to announce the general availability of Callimachus Enterprise version 1.3.1.
Callimachus Enterprise version 1.3.1 introduces many new features are aimed at making the Callimachus user experience easier to use and easier for new users to understand. Thanks for the many comments and suggestions we have received from users of both the Open Source and Enterprise editions of Callimachus for these ideas. The new features include:
A new welcome page that offers new users instant feedback on their logged in status, provides new introductory presentations and shows recently uploaded documents.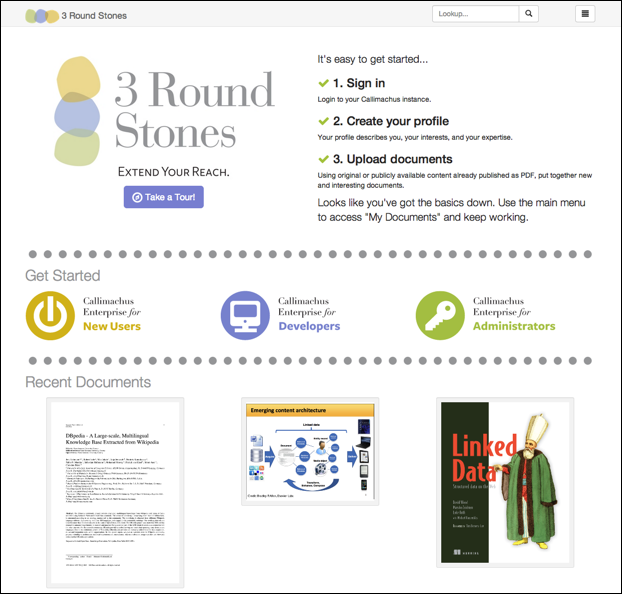 Any resource in Callimachus may now be tagged, categorized or commented upon using the W3C Open Annotation format.
User profile pages that help users keep track of their documents, data and applications. All content is automatically published by Callimachus and accessible to other users. Content may be recursively filtered by tags, categories and content type to allow you to quickly find the content you are looking for.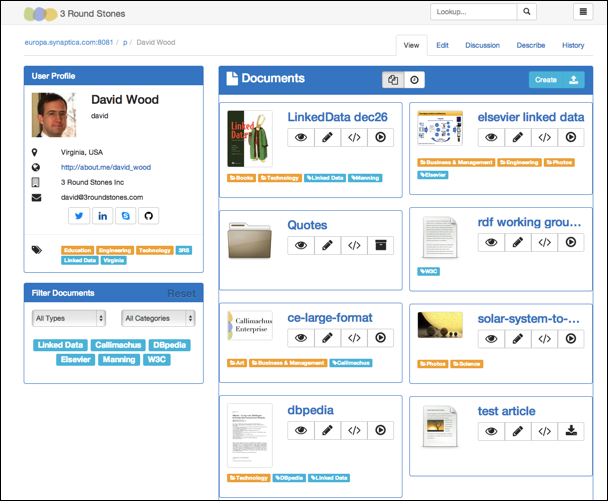 Tags and categories are structured RDF data and so may be used to create Callimachus applications. An example is the list of user profiles, which may be filtered based on that data.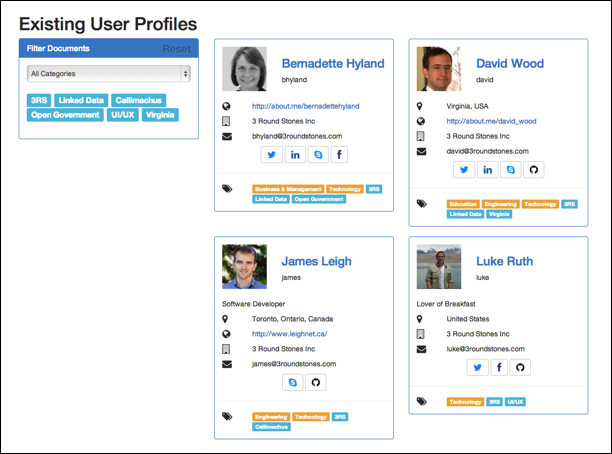 Callimachus Enterprise now supports extended management of PDF documents, including the ability to rearrange, remove and insert new pages. PDF documents and images may be inserted into another PDF document and simple "slides" containing titles and bullets may be added from within Callimachus Enterprise.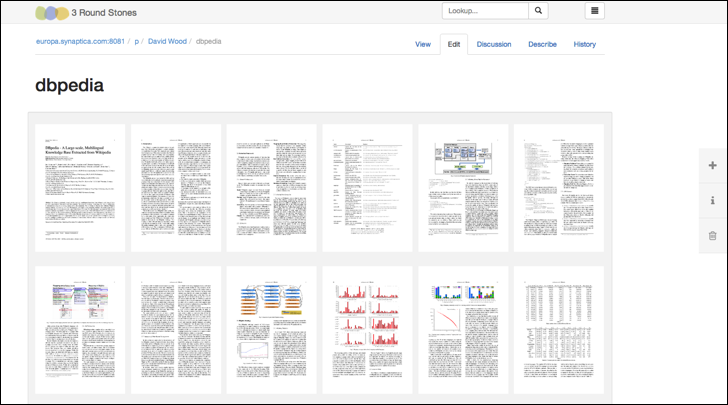 A guided tour of the Callimachus Enterprise welcome page, user profiles, user profile list and folders. We have introduced the use of the Trip.js JavaScript library to introduce Callimachus features to new users. Pages that have tours now have "Tour" entries in the main menu. This feature will be used to provide tours for other parts of the Callimachus interface in future releases and is part of a concerted effort to ease the transition of new users to the way operations are conducted within Callimachus.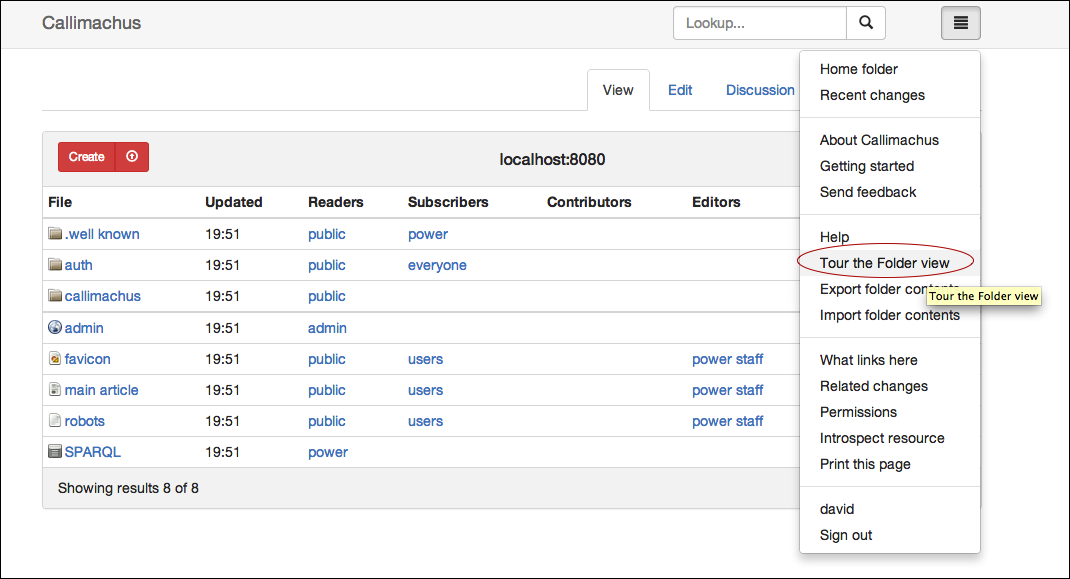 The beginnings of an "administrative dashboard" for Callimachus. We have started by simplifying the workflow for the addition of new users to groups and will be adding more functionality for administrators in later releases. The new dashboard is hyperlinked from the default main article and is accessible at /admin on any new Callimachus instance.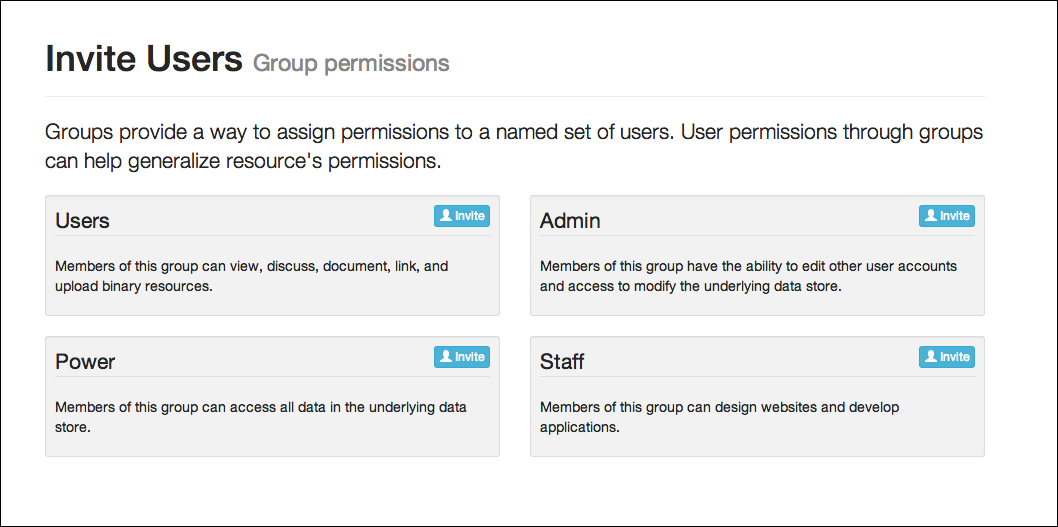 Updates to the import workflow for Callimachus ARchive (CAR) files. Some users found the need to explicitly create a new folder first either confusing or just too many clicks. It is now possible to choose between replacing the contents of the current folder and creating a subfolder during the importation step. This feature also stops users from unintentionally overwriting the contents of the /callimachus folder when importing CAR files into the home folder. The new functionality may be accessed by selecting "Import folder contents" from the main menu when in a folder view.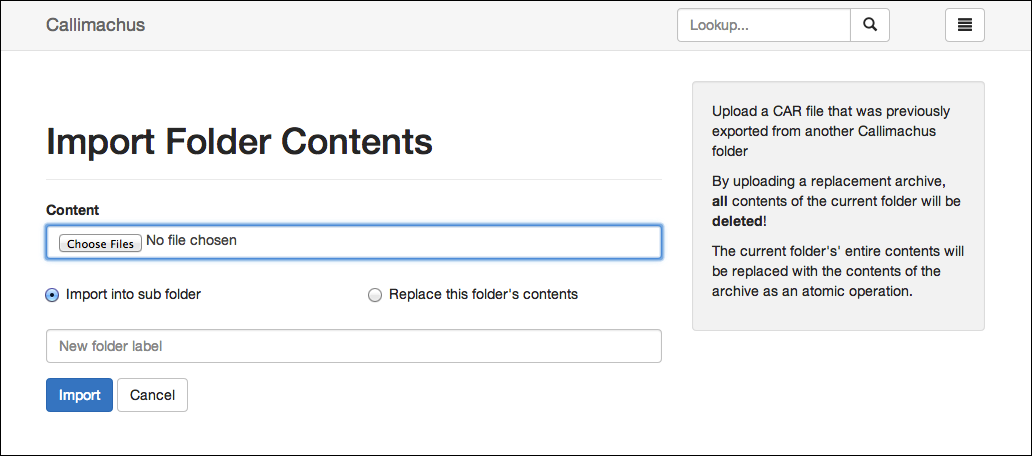 Documentation and tutorial enhancements relevant to this release include:
A new developers tutorial. This tutorial is intended to be the first place that a new Callimachus developer will go to learn how to create Callimachus applications. The new tutorial leads you through the creation of a Linked Data address book on Callimachus:
http://support.3roundstones.com/tutorial/developer-tutorial.docbook?view

General documentation updates, to include a better introduction to setting up the initial user and the handling of group membership in the Getting Started Guide, major updates to the Web Developers Guide and Callimachus Enterprise for System Administrators Guide, and a complete description of URL pragmas to the Callimachus Reference.
Three new presentations which introduce Callimachus Enterprise to new users, developers and system administrators. These presentations provide a look at features that are likely to migrate to the Open Source version of Callimachus in time and indicate the differences between the Open Source and Enterprise versions of Callimachus. All three presentations are available from the bottom of the 3 Round Stones support page.